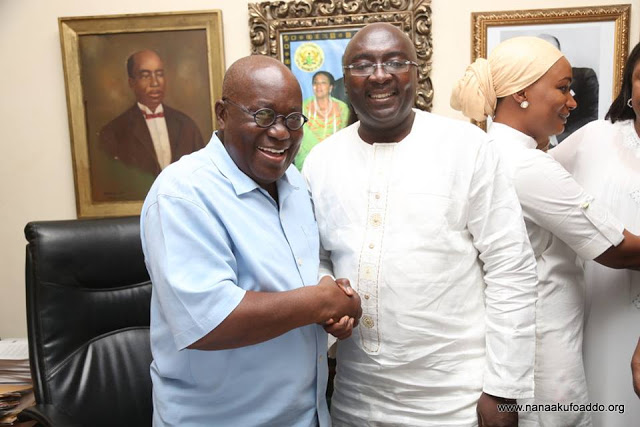 Nana Addo&Bawumia


Nana Akufo-Addo just won the just ended election in Ghana and is expected to retrieve some monies and also bring closure to some outstanding issues which could not be resolved.
The outgoing National Democratic Congress government was tainted with differing scandals which went unresolved until today; one reason why they failed in their attempt to seek the mandate of Ghanaians for a third term in office.
Ghanaians are, however, of the belief that President-elect Nana Akufo-Addo can bring to an end the puzzle surrounding these scandals that hit the NDC government to make Ghana a better place a deter people from engaging in such acts again.
Well, here are four scandals Ghanaians expect Akufo-Addo to address to bring finality.
1. The Woyome saga
Alfred Woyome is a known name in Ghana politics. Well, he was wrongfully paid an amount of GH 51.2 million and have been ordered by the court to pay back the money. Although he has agreed to pay, expect that they get to know people who enjoyed some of the money wrongfully taking money from the state.
2. Smattys Deal
Former Transport Minister, Dzifa Ativor, resigned from her post after investigations into a contract signed for the branding of some buses revealed the price for the contract was bloated. Well, Ghanaians will want Akufo-Addo to probe further as to why the deal was signed and why the price was bloated.
3. GITMO Two
The NDC government brought into the country two Guantanamo detainees into the country. Although the NPP on several occasions asked for a full disclosure of details on how the NDC agreed for the two to be brought to the country but nothing came out of their calls. Well, Ghanaians will want Akufo-Addo to make them know why they were brought to Ghana.
Thanks for being our NUMBER ONE reader. We value your time and efforts.

As one of the top independent news organisations in Africa, we strive to offer you more accurate, verified and easy-to-digest breaking stories and information on our platform.

Even though we do our best to serve you on time, we may not have all the facts right. After all, we are humans.

If you find any content that may contain wrong information, misleading or false, do reach out to our Editor at [email protected] for corrections.

You can also join our growing 500,000 combined followers on our social media channels for breaking stories and daily viral videos: